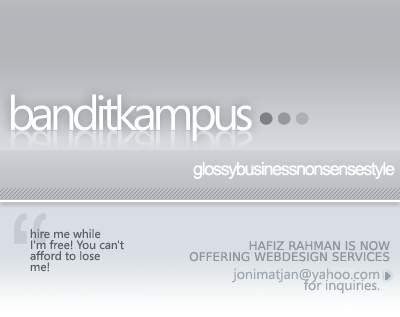 Friday, February 24, 2006
okay.. damn..
friendster is painful. I hate this weird wish to never exist in the past.
posted@6:14 PM
Ini Aku Lagi.
Gw emang lama ga nge-blog. Hiatus. Sayangnya, hidup ga pernah bisa hiatus, dia jalan terus. Banyak hal yang terjadi. Good and bad. Seneng dan sakit. Ga tau harus cerita apa, dari mana tapi, ini aku lagi. sebisanya nulis lagi.
posted@2:00 PM