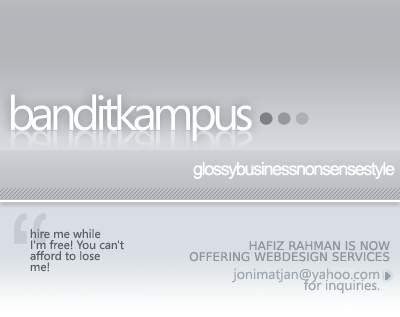 Friday, February 24, 2006
okay.. damn..
friendster is painful. I hate this weird wish to never exist in the past.
posted@6:14 PM
Comments & Discussion
Hehehe....web sing eroboy kuwi ? Daku kan amatir. Perasaan iku wis tak buat sesimple mungkin.Kasi suggestion po'o aku wis buntu dan gak punya waktu maneh iki...hiks...yo? yo ? T_T
Terpaksa tak bales nang kene Shoutboxmu mati ilo..
Ngko tak emailno script'e...hehehe Trus kenopo yo lek nang Opera dadine amburadul...tulung pisan ya ? ONEGAI !!
Post a Comment