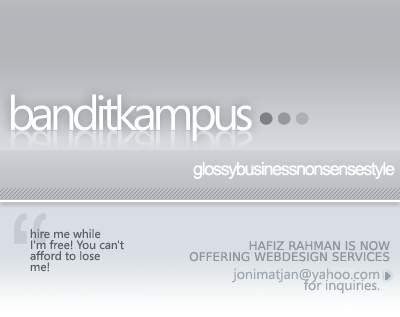 Thursday, December 28, 2006
Indonesia under Internet Emergency!
Due to the massive earthquake in Taiwan two days ago, up to 80% of internet connection coming from Indonesia to the world is dead.
Yesterday I had a hard time looking for working internet connection, but to no avail. Alhamdulillah (and I am really really grateful to Allah SWT), my usual internet cafe is unaffected--or at least the connection is still working okay to me.
I would like to say a lot about this, but for now my mind is actually too full of gratefulness to Allah. So, I would shut. If you would like to learn more about this situation, kindly refer to the following articles (in Indonesian language, all from detiknews.com):
Dirjen Postel Bahas Darurat Internet
Internet 'Sekarat' Bisa Berminggu-Minggu
posted@6:49 AM
Comments & Discussion
wew terimakasih gan, sangat menginspirasi sekali artikelnya
terimakasih, betul sekali saya setuju dengan pemikiran mas tetnag artikel asli ketikan sendiri
Post a Comment